We know you're out there :) Time for some shout outs to our American Melbourne Shuffle friends.
Some of you have emailed and told us you're the only person you know of in town who's even heard of the Shuffle, but there's probably others, you should hook up. Please feel free to post in the comments section of this article, somewhere in town, a club, party, park, street, mall etc to meet some other shufflers in your neigbourhood.
Here's a list (in no particular order) of shufflers from about 150 cities across America who have visited Melbourne Shuffle Oldskool in the past 4 weeks.
So, Howdy, good to meet you! Now how about showing us some vids of your Shufflin! Come on don't be shy ;) We wanna see what you're up to...
Los Angeles, New York, Chicago, Irvine, Phoenix, Roslyn Heights, New Orleans, Louisville, Pleasanton, Seattle, Atlanta, San Diego, Houston, Rochester, Washington, San Francisco, Danville, Jacksonville, Sunnyvale, Malden, Denver, Mc Keesport, Orlando, Miami, Bakersfield, Cranberry Township, Rockville, Cambridge, Newark, Austin, San Antonio, Orem, Providence, Elmhurst, Bala Cynwyd, Hartford, St Louis, Oxford, Camden, College Park, Longview, Rocky Mount, San Jose, Boston, Dayton, Malvern, Dallas, Cincinnati, Salt Lake City, Rocky Hill, Columbia, Glendale, Browns Mills, Mountain View, Norwalk, Plano, Meriden, Ft Collins, Spokane, Thomasville, Conway, Stow, Milford, Milton, Madison, Warrenton, Needham, Bellevue, Clinton Corners, Hot Springs Village, Morgantown, Tallahassee, Watervliet, Bolton, Lake Elmo, Arden, Corvallis, Oklahoma City, Fremont, Lawrence, Bishop, Spartanburg, Pittsburgh, East Rutherford, Fresno, Springfield, Sioux Falls, Hagerstown, Sonora, Lansdale, Bend, Manchester, North Prairie, Commack, Burlington, Poughkeepsie, Philadelphia, Pennsauken, Exeter, Holt, Lancaster, Pasadena, Mount Laurel, Hamilton, Hamburg, Raleigh, Campbell, Kalamazoo, Salina, Sarasota, Tampa, Milwaukee, Jackson, Phoenixville, Center Moriches, Norfolk, Sandy, Orange, Englewood, Wichita, San Rafael, Eatontown, Tempe, Ormond Beach, Herndon, Newtown, Nap, Boise, El Segundo, Ft Belvoir, Winston Salem, Charlotte, Littleton, Baton Rouge, Levittown, Little Rock, Marked Tree, Roanoke, Fairfax, Las Vegas, Kansas City, Reno, Walled Lake, Lawrence, Sayreville, Pompano Beach, Anchorage, Bridgeport, Ft Worth, Utica, Middletown, ...and adding... Albuquerque, Detroit, Coeur d' alene
UPDATE 14 AUGUST 2007


Albuquerque New Mexico added, we've just been visited by Detroit too and hey, well spotted Zefrenm, with the Rubber legs Al Norman clip (See comments), and welcome to Melbourne Shuffle Oldskool.
Absolutely right with the early Melbourne Shuffle influence.
Tap was one of the main influences of the Melbourne Shuffle, Tap is actually where the term 'Shuffle' as a dance step comes from, usually a soft shoe shuffle, where instead of talcum powder sprinkled on the dance floor to give slip, sand or pumice powder was sprinkled to give percussive sound effect, like wire brushes on a snare drum, to go with the music.
Tap, which originated in New York around the turn of the 19/20th century, was a street dance where African Americans and Irish immigrants both showed each other their stuff, combining to become tap. You can still see the Irish/Scot folk dance footwork in the Shuffle today. Melbourne has a large Celt population. My Scot/Swedish Aunt in her 80's, still does Scottish highland dance!
Most of the oldskool girl shufflers learnt tap from when they were about 6 years old at the local dance schools. The schools are as popular for girls in Melbourne as football is for boys. So the bboys learnt the tap moves from the girls. Actually the 'Do like a T' which Bigmilan suggests starting off with, in his great learn Melbourne Shuffle basics clip, is actually 'Position 1' in ballet, which the girls taught the bboys too.
I had a clip of master tap dancer Bill 'Bojangles' Robinson and Shirley Temple doing the ' Stair dance' too, but it got removed. If anyone spots it online, please post the link. Bojangles was also famous for putting his hand gun on the table when he played pool –
GanstaTap ;)
Here's some stills from the clip Zefrenm mentions, Rubber Legs Al Norman – I'll put this clip in the beginnings and brief history post as well, it's an important reference. Thank's Zefrenm.
Rubber Legs Al Norman doing what is definitely one of the earliest filmed examples of Melbourne Shuffle influences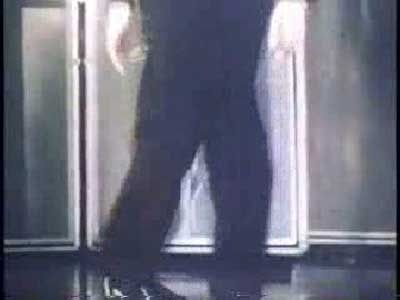 Gotta have the ladies in there as well. How come they don't dress like this at Raves ;)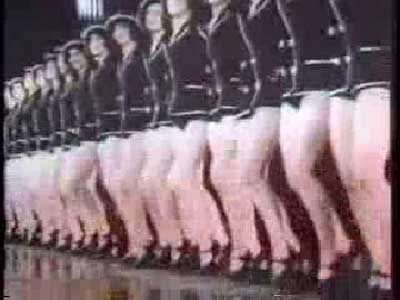 Kings of Jazz: Happy Feet:pt2