These images are from my first live TV broadcast of video art, called 'IT' , in Melbourne 1991. I'd been doing video art for a number of years before, usually multi screen arrays and only in art galleries etc.
Many of these images and lots more behind the scenes footage can be seen in the Global Shuffle 1 feature documentary.
Melbourne had a hardcore experimental electronic arts community in the oldskool era, who were pioneers of media art. We would broadcast these events live on free-to-air television across Melbourne, for years.
Visiting DJ's from London, such as Adrian Age, would take video tape copies of our broadcasts back with them to play in underground clubs and raves throughout the UK and Europe, often within weeks of their first broadcast in Melbourne. Pic below Adrian Age in 1992 in the TVU warehouse.
Screening videos of cult movies etc was not uncommon at oldskool raves. But doing a live mix with hoards of computers and video effects units, and mixing them live to a DJ set in time with the music, let alone broadcasting them live on TV, was unheard of in the international rave scene, apart from Melbourne. - We're not just good dancers :)
Generally we'd dedicate an entire room of the warehouse to live VJing and media art such as these pics below in the TVU warehouse - that's me with the shaman mask on.
We used a combination of analog and digital equipment. 'Digital' in vision terms, had only just begun. AMIGA was the computer we favored for image and animation production, because of it's superior graphics chips. A fully pumped AMIGA was just 2 meg - yep, count them, 2 :) We'd daisy chain a dozen or so of them together, then feed them through the Fairlight - more about that process below.
>>>>> 0 <<<<<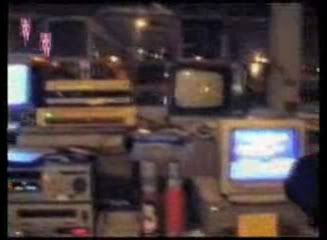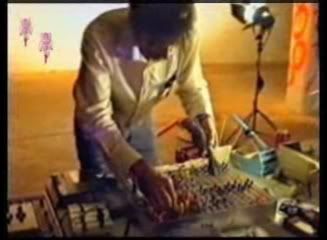 HOW 'IT' HAPPENED
The door opened, 'Hi I'm Elvis' he said, I'm sure you are, I thought. ' And this is Captain Rom' Elvis continued. Of course it is. Who else would it be?
I entered with my box of video tapes and sat before a TV screen. The phone rang. Elvis asked me to take the call, he was busy repatching equipment in the rack. 'What do I win?' asked the caller. 'Er, well hello to you too' I said looking puzzled at Elvis who pointed to text crawling along the bottom of the TV screen.


Crawling is a technical term by the way. It's when text moves in a line horizontally across a screen. Scroll/roll, the more familiar term, is when text lines move vertically on a screen, like credits of a movie, the usual phrase being 'Roll the credits'.
'IT said to ring' said the caller getting a little agitated. IT?... Oh the TV! The crawling text said, 'If you can see this ring ....(Phone Number).....' . 'So what do I win' he pushed again. Suddenly I spotted a clipboard in front of the TV. Ahhh, a questionnaire. 'We just want to know what the reception's like where you are…' I said in my best telephone voice. It was after all, midnight on a Friday and I was settling in for an all nighter. ' I don't win anything?' grumbled the caller. ' But IT said to ring!!!'
'Where are you?' I asked ' Glen Waverley he said. Elvis had come over and saw me writing the suburb. Are you sure it's Glen Waverley, he said to me. We're not broadcasting out that way, he shouldn't be able to get anything. But he was and he wanted a prize.
But a prize was the least of Elvis's problems at that moment. It turned out Captain Rom, a rather large cyber-hippy with long grey hair and beard, wearing an overstated tie-dyed top and (un) matching tie-dyed baggy pants with a Peace symbol necklace which bounced off his belly when he walked, had 'repatched' some of the equipment. A very serious no-no for anything with wires, unless you have a note from God, and then the answer is still NO.
The whole TV studio had collapsed (another technical term - similar to 'crashed' with computers).


When using analog equipment, as we were this night in Dec 1991, everything has to be synced (synchronised) so you don't get that rolling (Technical term) bar or line going up and down on your TV. We had digital stuff too, but analog was the main system. Everything has to not only link together, but phase together, very new age, and repatching immediately upsets this yin yang balance with the touchy little electrons and positrons as they buzz around the equipment. We're talking primal energy forces here, truly the voice of the universe.
So Captain Rom decided he could do better. Well he was now sitting on cushions in the main studio in a lotus position 'waiting' for us to get our 'shit together' so he could begin 7 hrs of cyber meditation, where, along with random synthesiser sequences he would chant and at times, recite the recipe for LSD, live to air.
I was to be on camera and vision mixer for the session, then do a solo 4hr live to air 'mix and mutate' session from 7 am till 11am, with my little box of tricks and some of my music. However, I had planned to use the 'Fairlight' (A God of hi tech toys - still) extensively, but it was now broken, 'Can't even get color bars up' said Captain Rom. (Color Bars are like a test pattern)


Captain Rom claimed to of invented the primary sound design chip for the Roland JX-3P synthesiser and sold it to Roland, but refused to take money from them, only shares and a box full of electronic bit's and pieces. I dunno, could be true. The JX-3P was a good synth in its day. Some (still) great fat string and brass sounds. I had two which I used on the road, they took a lot of punishment (Another technical term for rough handling by roadies). One roadie dropped mine one day, out of the roadcase, from his shoulder and from off the back of the truck. That's about 3 metres. Apart from a dented corner, it fixed an annoying hum we couldn't track down and sounded great for years after.


I've just recently heard from Neale Morison who worked for Fairlight in the 1980's and he knew Captain Rom. Here's what he told me... I just happened to meet someone who remembered Captain ROM from the Fairlight days of the 1980s, so I googled the Captain and your It page appeared. It sounds like the gentleman I knew. I seem to recall he made some elaborate pitch to the co-founders of Fairlight, Kim Ryrie and Peter Vogel, and they gave him the opportunity to work on what he had in mind. Captain ROM was by no means the weirdest person I met at Fairlight, nor even the most fancifully named. There was a guy called Mars Laser and another called Kia Silverbrook. Kia, after surviving his plan to become a fruitarian, became a star innovator with Canon and later with his own IP company. I don't know what happened to Mars. He may have just Gone Home...
The whole TV studio and system was working fine before Capt Rom 'improved' it, and 'it' had taken all day to set up for this weekend long marathon of electronic music and senseless flashing color. Let alone the months of hustling by RMIT Uni staff and students to get a test broadcast licence in the first place. But all that was done now.
It was just after midnight and we had begun our 48hr cyberthon. Various electronic musicians, video artists, DJ's and moral supporters, would come through those doors for the rest of the weekend, and experience the smell of split 'bong water' ('Bong'-Dope water pipe) and cheap incense in the small TV studio, hidden somewhere in the RMIT Swanston St buildings in Melbourne. The phone rang, an odd voice began with 'fucking well done guys, it looks great' It was Steve, he was with friends 'out there' in the night who planned to watch and party for the entire 48hr broadcast.


Steve Middleton and 'Til, were the main technology and skills providers for the broadcast, better known as 'Don't Shoot The Messenger'
After a bit of nob twiddling and 'How is it now ?' comments over the phone, Elvis sighed in relief. 'Well that's as good as it's going to get. I'll be asleep on the couch out in the corridor'. Wake me only if there's a fire, A big fire!' He'd been going all day.
Suddenly I was alone.
Just me, the cyber hippy and IT!!
7 hrs and no sleep later, I did my first live TV broadcast.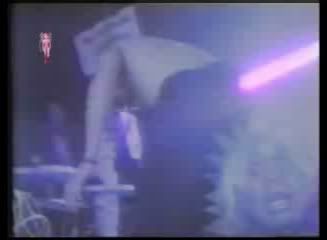 >>>>> O <<<<<
Dedicated to the Memory of Capt Rom - Media Artist, technician and creative urban legend who passed away 1993.
Here's to you ol' buddy, you'll long be remembered with a welcomed smile.
>>>>> O <<<<<