mix title: 80's Electro
shuffle music genre: electro
purpose: slower tempo for shuffle practice
level: beginners > advanced
speed: 100 -120 bpm average
time: 83 mins approx
The few years from 1983 to 1985 produced an explosion of synth based dance music, that we today collectively call Electro.
It was due to the sudden developments in electronic music techniques with the Fairlight CMI digital sampling and polyphonic synthesisers.
Up until the late 1970's synthesisers could only play one note at a time, but the early 80's saw a burst of synths that could play more than one note, usually no more than 8 notes.
This meant synth players could play chords (groups of notes) something only guitars or pianos/organs could previously do.
So now a synth player could fill a concert hall with a big synth sound, often called a 'stab' for a punchy brassy power chord or a 'wash' for a huge orchestral or ambient backing chord.
Add these with synth sequences, synth drums and some jangly guitar with an infectious danceable funk bass, and electro was born.
Here's a medley of electro tracks played 'live' by all time greats Stevie Wonder and Herbie Hancock, at the 1985 Grammy ceremony in LA (USA) with new kids on the block - and eventually proving to be one hit wonders, Howard Jones and Thomas Dolby. The Jones and Dolby tracks in full are listed below.
Synthesizer Medley 1985
There was a huge controversy about this Grammy performance, which had computers, drum machines, samplers and sequencers. The controversy was whether you could call this sort of set-up a 'live' performance. Even the announcer was a real computer voice introducing the guys.
To many of the rock generation, including the punks, it signaled the end of 'real' music and the beginning of fake plastic machine music that had no soul.
They of course were wrong about the music having no soul. As Stevie Wonder and Herbie Hancock would easily demonstrate both having more than enough 'soul' to share around.
Computers were new at the time, and terrifying to many. Some argued if a computer played the music, it wasn't music at all, and certainly was not live !
Check out this 1983 Today Show (USA) clip with Keith Emerson of ELP (Emerson Lake and Palmer) fame.
Fairlight Keith Emerson (1983)
ELP was best known for their brilliant shuffle rhythm take on Fanfare for the Common Man, at the time.
ELP - Fanfare for the Common Man (1977)
Here's a 1982 vid of Peter Gabriel (former lead singer of Genesis) talking about and demonstrating the Fairlight CMI. Peter actually uses a sledgehammer of sorts to try and smash an old TV screen to sample the sound for his music.
Peter Gabriel and Fairlight CMI (1982)
Here's the legendary Bob Moog talking about the Fairlight CMI and the beginnings of electronic music going back 25 years from 1983. Robert Moog invented the modular Moog synthesiser.

To quote Moog "…I've found the Fairlight to be by far, the most intuitively efficient and satisfying tool for manipulating sounds that I've ever used, and that includes modular synthesizers…" High praise indeed.

Bob Moog (1983)

In 1983 Peter Gabriel released a monster electro hit called Sledgehammer, using the Fairlight. He also dances in the clip using moves created by Melbourne Sharpies from the 1970's

About 3.30 mins in of this 1983 Sledgehammer vid you'll see Peter doing this Sharpies sideways elbow move, (pic above) really well.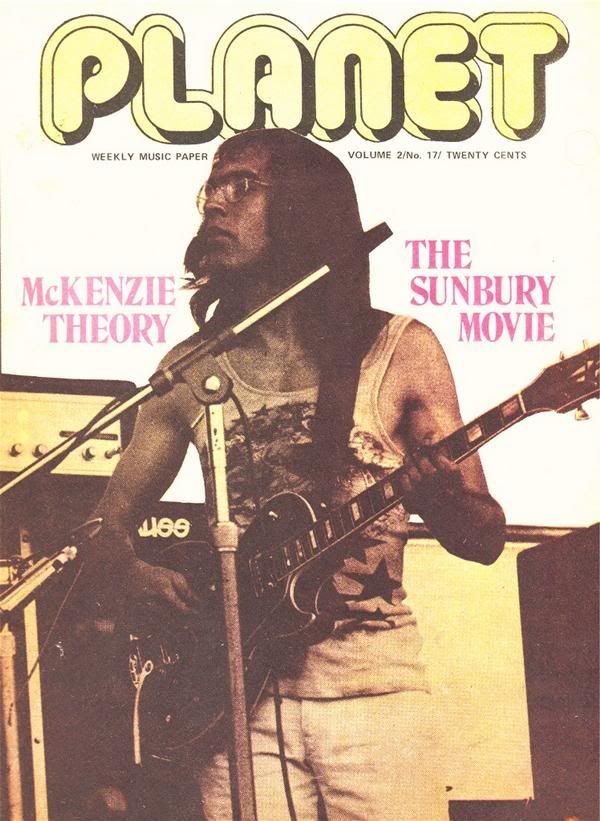 He even gets right down in a bent over position, like the experienced dancers did - the 'how low can you go' move. Not sure where Peter got the moves from, but the guy who produced his first single Salisbury Hill, was Rob McKenzie from brilliant 1970's Melbourne band McKenzie Theory (pic right 1972) - yep saw them live in Melbourne.
Peter Gabriel - Sledgehammer (1983)
Herbie Hancock Demonstrates the Fairlight on Sesame Street



And this is the ground breaking 1983 track Rockit Herbie was best known for at the time.
Herbie Hancock Rockit (1983)



This is an excellent vid with Herbie Hancock explaining and demonstrating the Fairlight CMI to grown-ups this time. The grown up is the legendary Quincy Jones. You get a fantastic run through of exactly what the Fairlight does, without a mouse! It used a light pen, much the same we today use a mouse, except you touched the screen. It's such a delight watching two music greats play with this gear. They have smiles as big as the Sesame Street kids!! Bigger :)))

Herbie Hancock jams with his Fairlight CMI (1983)




Electro brought a new aesthetic to music. Never before in human history had electronic gizmo's been considered musical instruments. (They were usually called special effects units or audio science lab tools.)
But the sounds they made electrified the audience. From clean pure sine wave sounds to nasty noise filtered ring modulators that could bite your ear off, we just could not get enough :)
Oh yeah, and usually there was a singer and the electro tracks became monster hit singles for major Hollywood movies ;) Such as Ghostbusters (1984), Flashdance (1983), Electric Dreams (1984), Never Ending Story (1984), Weird Science (1985) and Ferris Bueller's Day Off (1986)
And if it all got a bit too much for people, we always had the 'Safety Dance' to fall back on. By the satirical genius of Men Without Hats.
Ghostbusters (1984) Maniac (Flashdance)- michael sembello (1983)yello - oooooh yeah (1985) Ferris Bueller's Day Off (1986)
Bananarama - Shy Boy (1983)
Safety Dance- Men Without Hats (1983)
J. Geils Band - Centerfold (1982)
Oingo Boingo "Weird Science" (1985)
(Together In) Electric Dreams - Phil Oakley (1984)
Thomas Dolby - She Blinded Me With Science (1982)
Nik Kershaw - Wouldn't it be good (1984)
Fine Young Cannibals - She Drives Me Crazy (1989)
Tears For Fear -Everybody Wants To Rule The World (1985)
The Politics Of Dancing - Re-Flex (1983)
Never Ending Story ( Limahl ) (1984)
Howard Jones - Like To Get To Know You Well (1984)
The Bangles Walk Like An Egyptian (1985) Pseudo Echo - Funky Town (1986) Donna Summer - She Works Hard For The Money (1983)
Pointer Sisters - Baby Come and Get it (1985)
Addicted To Love. Robert Palmer (1985) BANANARAMA. VENUS (1986)