The Melbourne Shuffle began in 1992 in the underground TV studios of TVU – TeleVision Unlimited. TVU had their own free-to-air TV station which broadcast across Melbourne (3 Million people) and 3 carpark sized empty warehouses to play with.
Broadcasts would go live-to-air for 48 hours non stop from midnight Friday to midnight Sunday. You could shuffle along with us at home. Dancers would come from around the country to appear on our broadcasts.
Here's some of the shuffle creators (pic below) in front of the TVU warehouses, one of the many morning's after. TVU only lasted one year at this site. But it was the critical year when all the elements for a new culture, converged and ignited.
Most in the picture, including Richie (Rich) who took the photo, went on to create the landmark events that defined the Melbourne Underground style and for more than a decade drew people from around the world to come and experience it for themselves.
You can see footage of the broadcasts and parties, including the night before of the pic below, in Global Shuffle 1990:2010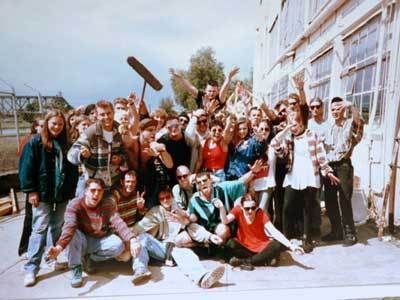 The official trailer below has some shots from TVU.
The opening scene shows the inside of TVU when someone -who would like to forget this incident ;) decided to light a marine distress flare inside and cleared the dance floor for all except the brave and fool hardy like myself who held his breath while getting the shot.
That's Aslan silhouetted in the foreground. There's other shots as well Rhonda B and some group shots flashing in the strobe towards the end, and the final fade shot are all vintage TVU 1992. Lot's more in the movie.