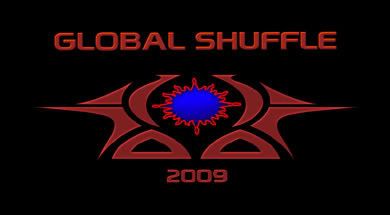 In February 2009 Millie came to visit Melbourne and be interviewed for the Global Shuffle dvd.
Millie is from the Netherlands and has a dance crew called Dance Max. Here's Millie's vid he's made of his visit.
Dutch Shuffler in Down Under
Millie is best known for being in the worlds first commercial shuffle track/video Melbourne Shufflers - The Shuffle, around the beginning of 2008.
Melbourne Shufflers - The Shuffle.
It was great to meet Millie. I took him to a few places in the CBD that were significant oldskool sites.
It's hard to explain the Melbourne underground, it's much easier to show it. We have a lot of back alley's, basements and upper floor buildings that the underground houses itself in. All have obscure nondescript entrances. Often just a simple doorway with stairs.
These are to discourage the mainstream. They look of no interest at first glance, but if you are in the underground, these are passageways into another world, literally in the main street of Melbourne, but unnoticed by most. And that's the way we like it.
The underground has different attitudes to mainstream Melbourne, from the way people dress to their behaviour. The behaviour is most important, it's friendly.
Just finding an underground venue, is like you have completed the first initiation test. We like to think of it as a treasure hunt. You need to put some effort into it, and you are rewarded for your effort.
The Lounge (Swanston st Melbourne) a longtime underground venue was one of these places.
Established in the last global recession of the early 1990's in a disused upstairs retail storage area, Carlos the Lounge owner proudly tells visitors "The Melbourne Shuffle was practically invented on this dance floor", and he's right.
1992 a shuffle club night called Switch commenced, it was renamed a short time later as Filter and became the world's best and longest running shuffle club. Held at The Lounge Wednesday nights every week for 11 years (1992-2003), it was the underground's inner circle club of choice.
It has a concrete floor polished smooth by shufflers feet for 11 years, and it's still exactly the same now, and you can still shuffle on it and the exact same stage as these oldskool shufflers in 1995.
Filter @ Lounge 1995
Here's the 1995 video footage of shufflers on the same Filter stage.
Today the Lounge still operates, but Shufflers may find it a bit ordinary as it is mostly just a sit down day bar with meals these days, catering for an older 20's - 30's mostly mainstream urban crowd.
So say hello to Carlos if you bump into him, tell him Garry/MSO sent you, and if he has the time, he's more than happy to chat about shuffling. After all, he's seen it all from the beginning.
You can still have a bit of a shuffle on the original dance floor and stage though, among the tables, and it's well worth doing as homage to one of the greatest original oldskool shuffle clubs of the world, Filter and it's fantastic crew The Filter Army !
It's the closest you can get to the original oldskoolers these days, by literally shuffling in their footsteps.