A few days ago there was posted what appears to be the first commercial music video mentioning the Melbourne Shuffle.
A pronunciation note for the rapper, we pronounce it Mel-BEN not Mel-bourne :) Yeah we know that's the way it's spelt, but we do everything different in Melbourne ;)
Not a bad effort anyways. It would be great to know who the music was recorded by, who the rapper was, and who the dancers are - credits please :) Anyone know ?
The Vid. A note to the video makers for future reference, we can't see the feet, dark pants on dark background - not good. That's the point of a shuffle vid. You got the tops okay, faces etc, but without the feet, you're going nowheres :)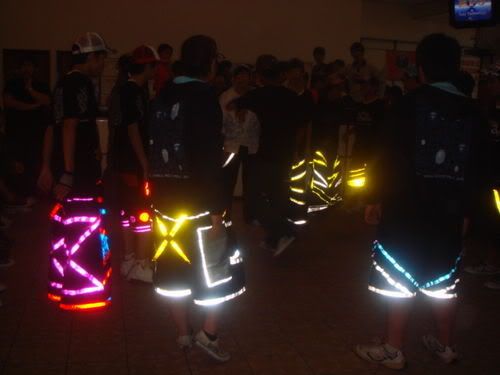 Which is why we invented these things called 'Phats' (pic left) when we invented the Shuffle back in the early 1990's
So you can see the legs move in a dark environment. That's more important to Shufflers than seeing someone's face. But that's cool can't know everything at once ;) This is Cript Ballas wearing great phats in the pic above.
The Music. Shuffle music traditionally does not have rap,  we have a SHUT UP AND SHUFFLE ethic, but it kinda works in this commercial hardstyle form. And they got it right, there is no limit to the music styles you can shuffle to. As the rapper says "hiphop, r+b, mix it up...Melbourne Shuffle"
The Conclusion. It's nice to see our shuffle friends in the Netherlands grabbing the bull by the horns and getting off on the Shuffle!!!
"It's Called the Melbourne Shuffle, Get wid it, or Get Knocked over..."
Well done guys and gals, Welcome to the Melbourne Shuffle...more please! ;)
Melbourne Shufflers - The Shuffle.
Update: Just found the info on a Dutch TV show clip (translated) - er Not too sure about the accuracy of the homophobe translation, I think someone's over compensating ;)
Melbourne Shufflers @ Jensen
Melbourne Shufflers @ Jensen - demonstrating the shuffle
Pim one of the Shufflers actually unnecessarily apologised for the vid, but respect for him doing it. It was posted on the MelbShuffle forum
http://www.melbshuffle.com/index.php?topic=10537.0
>>>>>> 0 <<<<<<
This is Pim from The Melbourne Shufflers(with the blocked hat), I just saw your vid and I totally agree, and you have to understand that we do not think we are the best or pro's or stuff.
It's just that Jensen vid, we got thrown on National TV, we weren't happy about that either, we were just practicing the MBS and suddenly we got put up on TV.
I'll explain : Shuffle is done for years in Rotterdam, Holland, that is where we are from, the MBS is here for like a few months, because we were regular shufflers, we got a contract for dancing and an act, so we had to practice and stuff, a lot of media attention came to early and I wasn't happy about it either, because we had to show it in a good way, which we weren't capable off.
Even I learned from your vids also, and I still watch them every day to practice more and more.
Our vid the shuffle is a videoclip and you have to understand that we werent happy about it either how it was edited and stuff, there were much and much better parts of us shufflin but it was not in the vid, we were dissapointed of it, we did not got to tell anything about it.
Me and my teammates are going to make a new vid this week (just a normal vid ) and I was also telling them every day to practice and practice so that we can get some level, becuz how you shuffle over there is like mad, here we will never get that kind of good shufflers sadly.
I'm also dissapointed on all the reactions and edited movies on Youtube(although a lot of them are right), I can understand some of them, but the hate is driven like mad. And no we are not doing this for the money or fame or shit, we just really like shuffling, and we are not pro's or the best, we just like to dance. We didnt even got payed for anything we did ?
I hope someday we can set this straight and u will see we are not that harmful, were just party people over here in Holland that want to kick ass on Hardstyle!
So herefore my apologies, we would rather be helped from you and all the other pro shufflers then burned down.
Greetings, Pim
>>>>>> 0 <<<<<<
Thanks Pim, no apologies needed, ignore the haters, we all do. BTW 'Off Corso' in Rotterdam featured a retrospective of my video art in 2002, screening all the oldskool shuffle vids from the early 1990's, as part of the Rotterdam Film Festival.
You have NOTHING to apologise for, party people in Holland have been doing it right for a long time, respect.
>>>>>> 0 <<<<<<
UPDATE 13 March 2008
I can't believe the fury of comments about these guys (and gal :) ) online, still happening.
A lot of people yelling 'it's not the shuffle' ?? :)
Obviously noobs who are certainly not oldskoolers, or have seen the Shuffle footage I posted in the PHATS! article, from shuffle meet ups in 1995 and the first Kryal castle party in 1995, with lots of people doing these exact same moves.
Anyone who says it's not Shuffling doesn't know what they're talking about :)
Of course it's the Shuffle, I've shown it to lots of oldskoolers and they love it!
It's also inspired local Melbourne oldskoolers to write new tracks and make professional Shuffle vids, even ME! - I'll let you know when it's done.
One respected oldskooler friend in Melbourne even said he had to get up and bust a few moves along with it. Had a smile on his face from ear to ear!
We know what they're doing, we don't expect someone who's been Shuffling for 6 months to Shuffle like an oldskooler who's been doing it for 15 years lol, that's just nuts.
So to the Melbourne Shufflers, from the oldskoolers from Melbourne... FANTASTIC !!! Good on ya, and do some more!
I think it's just envy ;) with the haters. They wanted to be the first with a Shuffle anthem and crack the mainstream market with a vid.
Simple solution to that as we say in Melbourne...SHUT UP AND SHUFFLE!! :)
Just get off your arse, stop being such a cry baby and DO IT!
Well done you Melbourne Shufflers, you just got on with it and did it! ...that's the spirit of the Melbourne Oldskool, *two thumbs up*