Goths were a big part of the Melbourne oldskool underground and they had their own shuffle style.
Being hardcore goths, they of course got fully into the role and would have goth names and characters etc who'd never be seen in full costume in daylight etc.
There were some brilliant goth crews too.
Mortisha's (a goth fashion shop) crew would do these annual goth costume balls. All the costumes were made by the wearer, or small design crews who would work with the wearer as a model. One guy had full on rubber bat wings on his back which could open out.
Goth Ball - Carnival Of Lost Souls. 1995


Another crew The Scream even had a basketball team in the local suburban comps. with a goth cheer squad who would shuffle to punk and industrial, and glare at the opponents all night psyching them out - it works.
These shots are from 1994, it's like an episode of Buffy :)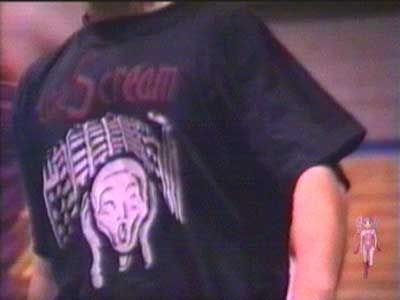 Other goth shuffle crews would do these elaborate choreographed stage routines in goth clubs. Local goth bands would write the music.
On Stage at cult goth club Apocalypse 1994

These were my neighbours in Commerce House in the early 1990's, they produced horror literature and a monthly mag called Bloodsongs.


You can check out all these goths in action in this compilation from mid 1990's. The tracks at the opening are by Melbourne goth bands, Love Lies Bleeding and Dead Can Dance.
 
TOE - Theory Of Everything 1993/95