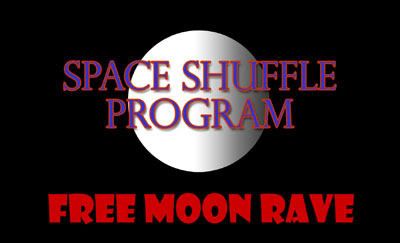 Oh yeah, this is for REAL !!! Sign Up, Get Involved on the MSO Forum
Welcome to the Space Shuffle Program.

We reckon the Moon has been a bit neglected as the boffins continue to chase after anything in a red skirt, and want Mars now.
So with the growing interest in Space tourism (once the recession is over) we would like to invite Australia, USA, Russia, China, Japan, India, Saudi Arabia, Sth Korea and Nth Korea and any private space travel company or other country with a space program, to meet-up on the Moon as a gesture of good will, to keep the moon as free and natural as possible for as long as we can. Like an international park, with free entry !

We know one day it will be mined, perhaps as a fuel source for interplanetary commutes, but until then, lets keep it as spectacular as it has been for all of us earth creatures for some time (decades/centuries) to come.
Seeing as people have been playing golf, taking happy snaps to send home and generally poking around the surface, we reckon it's time to Shuffle.

It'll take us years, but WE AIM TO HAVE SHUFFLERS SHUFFLING ON THE MOON BY THE END OF THIS DECADE 2020.

1. Phase 1. We lobby both Russian and American governments to get an American and Russian astro/cosmo- naut to shuffle together in the Space Station as a gesture of peace and good will from the people of earth.
If we can achieve that, then a Free Moon Rave is a real possibility, with the efforts of world governments and private moon quests, to preserve, at least for as long as possible the pristine beauty of our moon.

Who here would like to watch the Earth Rise from the Sea Of Tranquility after a rave ?
MORE AT www.SpaceShuffleProgram.com