Just spotted this post by
Aliciaks on her blog
, see her blog for more details.
Melbourne Shuffle FEV.ER 18 August 2007 -
A friendly match amongst ourselves.
Now that's what we like to see. Hopefully we'll see some youtube vids of it as well...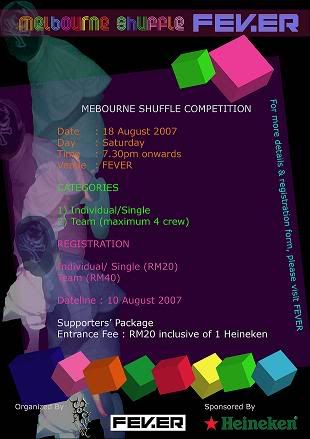 After so many free park shuffles & gatherings, we decided to come out with an event in the latest club FEV.ER previously known as Eagles's Nest.
A friendly match amongst ourselves. Besides the competition, the resident DJ will be spinning all the latest hardstyle mixes just for the night.
Entrance Fee : RM20.00 inclusive of 1 bottle heineken.
Available from 9th July onwards at : FEV.ER or contact any Tribezone Crew
***Free Entry for Contestants
Prizes has not been finalized. Will post it up soon.
Fact : The fund from this event will be used for our preparation for The Borneo Carnival 2007. The biggest New Year's Eve celebration this year in Sarawak Cultural Village with Blutonium Boy-Germany, X-Statik-Australia, XiLe-Kuala Lumpur, Hardheroes-Kuala Lumpur, CQuenz-Miri & many other more. & we are giving out 4 free tickets worth of RM85 each during Melbourne Shuffle FEV.ER for your strong support.
More detail on The Borneo Carnival 2007 will be posted up so... stay tuned!