Came across this pic with the title 'That is the cool Melbourne Shuffle' on a
Vietnamese site
posted by
shuffle boy
- Melbourne has a pretty big Vietnamese population.
Yeah, well it is Melbourne and a not too uncommon sight ;) Goths were a part of the oldskool Melbourne Shuffle scene. Nice pic... but we wanna see her dancing :)
See
Melbourne Shuffle Brief History
for some oldskool Goths dancing in old wedding gowns.
UPDATE 16 SEPTEMBER 2007
I've just had an email from Ben Collinson about the pic above. Ben's an oldskooler from the Global Village days. He's now living in London, but on May 20, 2006 he was in Melbourne and took this great photo. He told me it's actually not the Melbourne Shuffle (Someone grabbed the pic online and put a different title to it) but the Zombie Shuffle. I kid you not. :) Here's the flyer, great looking flyer too btw.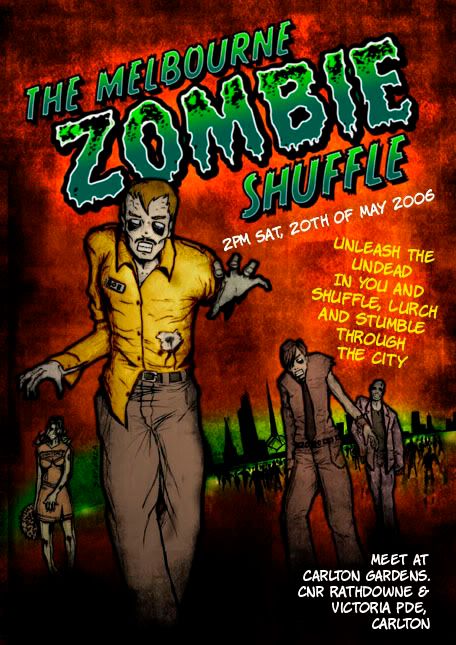 The shot was taken as the Zombies shuffled their way down Flinders Street. They actually went past the front of my building where I have my studio, the Nicholas Building on the corner of Flinders Lane and Swanston Street. (See google map for a closer look) I have a vague recollection of them passing, seeing them from my window which looks down to Swanston Street. I just thought, 'Oh yeah, just a bunch of Zombies going for a stroll' nothing unusual for Melbourne. There was about 100 of them. Hmmm thought the girl in the pic looked familiar :)
View Larger Map
So there's gonna be another one this year according to the official Zombie Shuffle site
http://zombieshuffle.livejournal.com/
This time I'm gonna not be lazy, and go out and film it !!! It looks fantastic. They have heaps of links to pics of the Shuffle and lots more info such as what's on the menu for the next Zombie Shuffle picnic. pic below