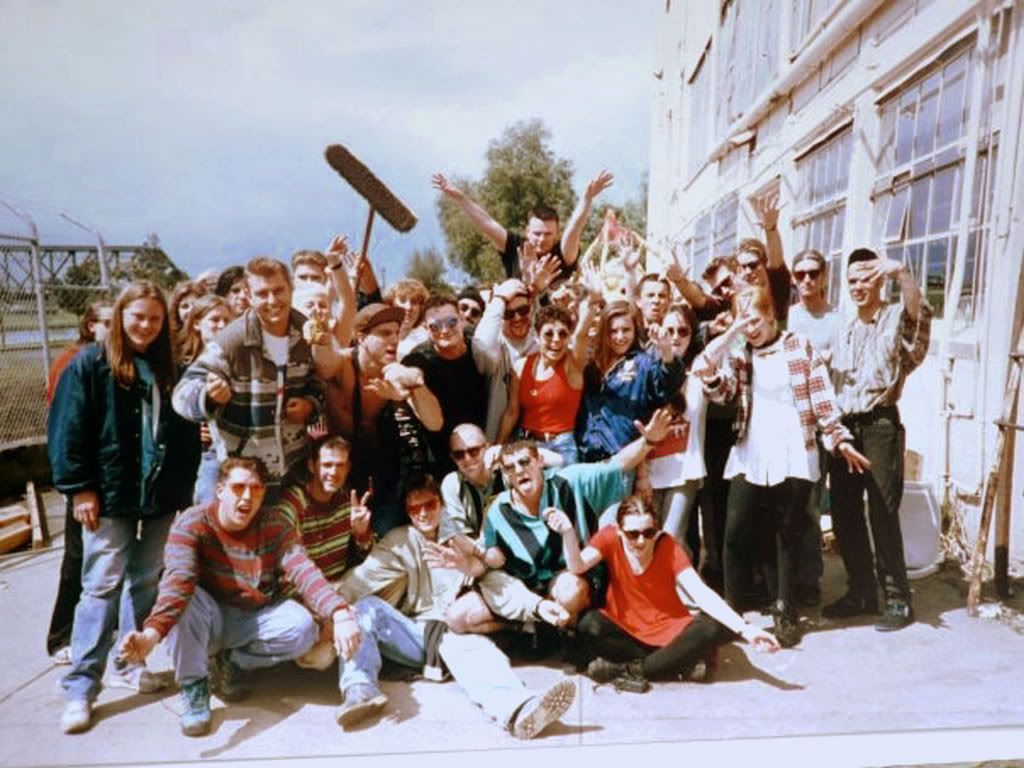 In this photo: Annabel Dundas, Simone Dumaresq, Brett Dumaresq, Russell HardCore, tricky, Duncan (doc) J Plank, Jason Knipe, Bolty, Krash, Hydi (Holding broom), Johnny Lad, Brewster Bee, Lee Dixon [spam], Scott Adcock, Garry Shepherd (With costume on), Clare O'Donohue, clare, shaun Viridian, Tricia Phelan, Jenny McNab, Melanie Taig, Mitchell, Zip Hed
Pic by Richie 'Rich' McNeill (1992)
If you know other names please let us know in the comments.
PIC UPDATES:
We've just had confirmation that it is Hydi holding the broom. Our collective memories have got it sorted. I remember Hydi near me, but I had my costume hat on and couldn't see anything but the feet of the people in front of me. Which is how I knew I was facing the camera :)

Krash has the broom stick in the vid I shot of the same morning (see vid below), so the assumption was that Krash had the broom. So it's sorted.

Of course we can't agree on the date of the pic at this stage just the year 1992, we all have different opinions of the matter... bloody typical oldskool lol. We're all in the same pic and we swear by different dates ranging from March 92 to Oct 92. It is worth noting that nobody disputes that the same crew could have been at any of those 8 or so alternate dates for the photo. It just blurs into one year long party.

Brewster Bee has kindly invited everyone over to the PFP Purple Forest Posse facebook group to catch up and post more pic etc. I'd encourage new shufflers to visit and chat with these oldskoolers.
This photo has just surfaced on the oldskool facebook pages. These are original Melbourne Shufflers or as we called ourselves then - Stompers.
It's at the TVU warehouse in Melbourne (Footscray) where many of us lived for most of 1992 running our own TV station and holding shuffle parties - hard life eh ? ;)
Crews would join together to hold events. TVU for instance was Television Unlimited, a formal crew with committee etc who could approach government departments to get test broadcast licenses for experimental TV broadcasts. Pirate TV crews also existed, but they were illegal and carried a 10 year jail sentence.
TVU had this amazing 3 roomed warehouse, each room about 5000 sq feet, and all joined by doors. We joined up with the Every Picture Tells A Story crew and broadcast dance parties live to air, along with our other experimental stuff.
Many of us lived in there between parties and broadcasts, mainly to keep an eye on the expensive broadcast gear we had there.
It was also a club house for us. People would be there every night of the week and weekends were just a long party from Friday night to Sunday night.
Here's one of our broadcast weekends from 2 months before the group pic. You'll get an idea of the other TVU crew from the tech and organisational side. We'd often have this much expensive gear laying around, hence we'd live there to protect it.
This is the TVU promo clip which was broadcast across Melbourne once an hour for the year. It's got footage of the parties held at TVU and the first ever Shuffle footage to be broadcast on TV. ! I edited this clip in this same warehouse in a mammoth 16 hour all night session.
NEURENERGEN by Garry Shepherd '92

We eventually got kicked out of the warehouse at the end of 1992.
It only lasted that year, but was the most significant early warehouse site in the oldskool era, defining elements of what a Melbourne Warehouse dance party was.
A definition that continued for over a decade and epitomised a true underground Melbourne Shuffle party.
This group pic above, is the morning after an Every Picture Tells A Story party in August (I think) Every Pic 3 or 4 ? Richie 'Rich' Mc'Neill wanted to get a group shot of the TVU crew to put on the flyer for his next Hardware party, but I think we were a bit intense for him. But that didn't stop a lot of us working on Richie's parties over the years.
It was considered ok to be a part of several crews at once, as long as they were not in competition with each other.
In the early days of the oldskool era, it was much like it is now in the Shuffle scene. It's generally too small for people to have big major clans in most towns around the world. And it's still all very new to everyone.
You just want to go out and meet other shufflers. You don't want to know about clan politics, who's cool who's not. You just want to meet up and have fun.
That's how it was in this 1992 pic, just like any shuffle meet-up group pic today.
Most of us were total strangers to each other from all across town at the start, but instantly, you become friends and nearly 20 years later, you're still friends.
These pics below are inside and outside of the party that night of the group pic. (Video shots of me were taken by Zip Hed) That's me roaming around the video art room in my party clothes.