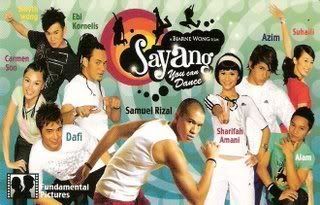 With the rate the Shuffle is growing, it was only a matter of time before a movie producer recognised it would be great for a feature film to have the Melbourne Shuffle in it.
Malaysian director Bjarne Wong has done just that and enlisted Tribezone to do the deed !!
The movie is called Sayang You Can Dance and is due in the cinema's November 2008. By the look of it, it's a 'dance movie' with lots of eye candy, a love story, some jealousy, and of course, lots of great dancing :) Not to mention the big dance number at the end, where our hero's overcome all odds and pull off that killer move. And from Broadway to Bollywood, these are things dance lovers expect and demand in a dance movie.
Just seeing the Sayang You Can Dance poster art tells me all this :) except what Sayang means? - I trust some of our Malaysian friends will give us an approx English translation ;)
And I'm pretty sure Alicia and others from the Tribezone crew could be persuaded to er...give us some more goss about the movie if we ask them nicely :))) on the new
Tribezone MSO Team Forum link...
http://mso1.cultureforum.net/teams-crews-f10/tribezone-t19.htm
So very well done Alica and Tribezone Congratulations!! Apart from landing the part, you go down in Shuffle history as the worlds first Shufflers in a feature film !!!
... and just a note to director Bjarne Wong, the movie will sell heaps better if you have LOTS of shuffling ;)
Find out more on Alicia's blog...
http://aliciaks.blogspot.com/2008/03/there-are-only-2-reasons-why-you-should.html
Sneak production clip featuring Tribezone doing some jump in Sayang You Can Dance.
Director Bjarne Wong has a horror/splatter movie in the cinema's at the moment The Possessed starring the delicious Amber Chia.
We can see how the Shuffle was the next obvious step in his movie career ;)
Trailer for the movie "The Possessed", directed by Bjarne Wong, starring Amber Chia and Harisu